SealIt XP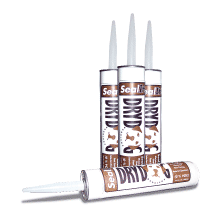 Product description
SealIt XP is a single component, moisture-cure, environmentally friendly, polyurethane sealant that cures rapidly to a durable, medium modulus, flexible, weatherproof sealant. The cured sealant adheres well to most common substrates such as masonry, concrete, glass and aluminum without priming and shows excellent adhesion to most types of plastic.

SealIt XP comes in 10.3 fl. oz. (305 ml) cartridges, 24 cartridges per carton.

Available in Limestone Color.

Basic uses
SealIt XP can be used for exterior and interior caulking the perimeters of frame openings; expansion, control and isolation joints; coping and coping to facade joints; cornice and wash joints; panels; poured-in-place; tilt-up; underside of precast planks; steps and risers; top of non-loadbearing walls; glazing, etc. It is also suitable for various manufacturing uses, such as production of travel trailers and mobile homes, extruded PVC windows and doors, and many other OEM applications.

Benefits
• Contains no TDI (toluene diisocyanate) or VOC
(volatile organic solvents).
• Excellent adhesion to wide range of substrates
• Excellent weatherability and durability
• Low odor.

Application limitations
• Do not apply over damp or contaminated
surfaces or in hot, humid weather conditions as
the sealant will bubble or foam if applied during
these conditions.
• Do not apply to absorptive surfaces such as
marble, limestone, or granite without prior testing
for discoloration or staining.
• Use only at temperatures of 40°F (4°C) and rising.
• Maximum joint width = 1-1/2".

Applicable standards
SealIt XP meets or exceeds the requirements of Federal Specification TT-S-00230C, Type II, Class A; ASTM C920-87 Type S, Grade NS, Class 25, use NT, G, M, A, and O; AAMA 802.3 and 805.2; CAN/CGSB 19.13-M87.

Installation
Joint design: The width of the joint should be a minimum of 4 times the anticipated movement. In joints up to 1/2" wide, the depth of the sealant should be equal to the width, but not less than 1/4". In joints wider than 1/2", the depth should be maintained at 1/2". Maximum joint width is 1-1/2" for a SealIt XP installation .

For butt joints, see DryDog's Joint Design Chart for recommended joint designs for specific building materials. Lap shear joints should have a width of at least twice the anticipated movement.

Surface preparation: Joints to receive sealant must be sound, smooth, uniform in dimensions and free from defects and foreign materials. They must also be clean, dry, free of frost and all contaminants, such as curing compounds, sealers (waterproofing), coatings, etc. To test adhesion, apply a sealant bead and allow to cure thoroughly. Then pull one end of the bead to test adhesive strength.

Back-up material: The purpose of back-up material is to regulate the depth of the joint; to provide a surface against which the sealant is compressed when tooled, thus promoting better adhesion to the side walls; and to provide a non-adhering back surface, precluding the possibility of a three-sided joint. Where back-up material is not necessary or where a type is used that does not have release properties, a bond breaker tape should be used. Closed cell polyethylene foam back-up material is recommended. It should not be punctured, twisted or excessively stretched during installation, nor should it be compressed more than 50% of its original diameter. Open cell backer rod is compatible with all DryDog sealants as long as it remains dry.

Tooling: In vertical and horizontal joints, tooling is absolutely necessary to aid contact with the substrate, eliminate air bubbles and give a highly desirable concave appearance.

Cleaning: Immediately remove all excess sealant and smears adjacent to joints with xylol as work progresses. For equipment clean up, use xylol or its equivalent. These solvents are flammable. Keep away from sparks, flames, excessively high temperatures or other ignition sources. Refer to manufacturer's MSDS for proper safe handling precautions.

Shelf life: One year from date of shipment when stored in original, unopened container in a dry area at temperatures below 80°F (27°C).

Maintenance
If the sealant is damaged and the bond is intact, cut out the damaged area and recaulk. No primer is required. If the bond has been affected, remove the old sealant, clean and prepare the joint in accordance with the instructions under "Surface Preparation" and recaulk.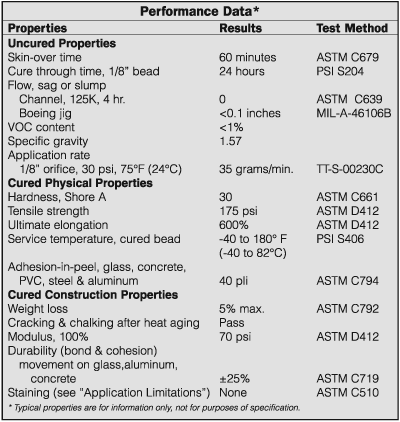 ---